June 21, 2019
Twilight Soiree Riverboat Cruise
Friday, 7:30 pm to 9:30 pm
Event Navigation
Pittsburgh's illustrious skylines will set the stage for an elevated experience on the water when you step aboard Rivers of Steel's green riverboat, the Explorer.
You'll nosh on fare by Kate Romane's Black Radish Kitchen and delight in a choice of specially-crafted cocktails by the city's acclaimed new distillery, Kingfly Spirits. All the while, you'll enjoy a special evening version of Rivers of Steel's sightseeing cruise, PGH 101: An Intro to Innovation, discovering how the Burgh's landscape, its wealth of natural resources, and the character of its residents have helped to shape the dynamic city it is today.
Don't miss out on this limited series from Rivers of Steel.
$65 per person. 21+ only. Ticket price includes an array of small plates, one cocktail, and the tour experience. Additional spirit-based drinks are available for purchase.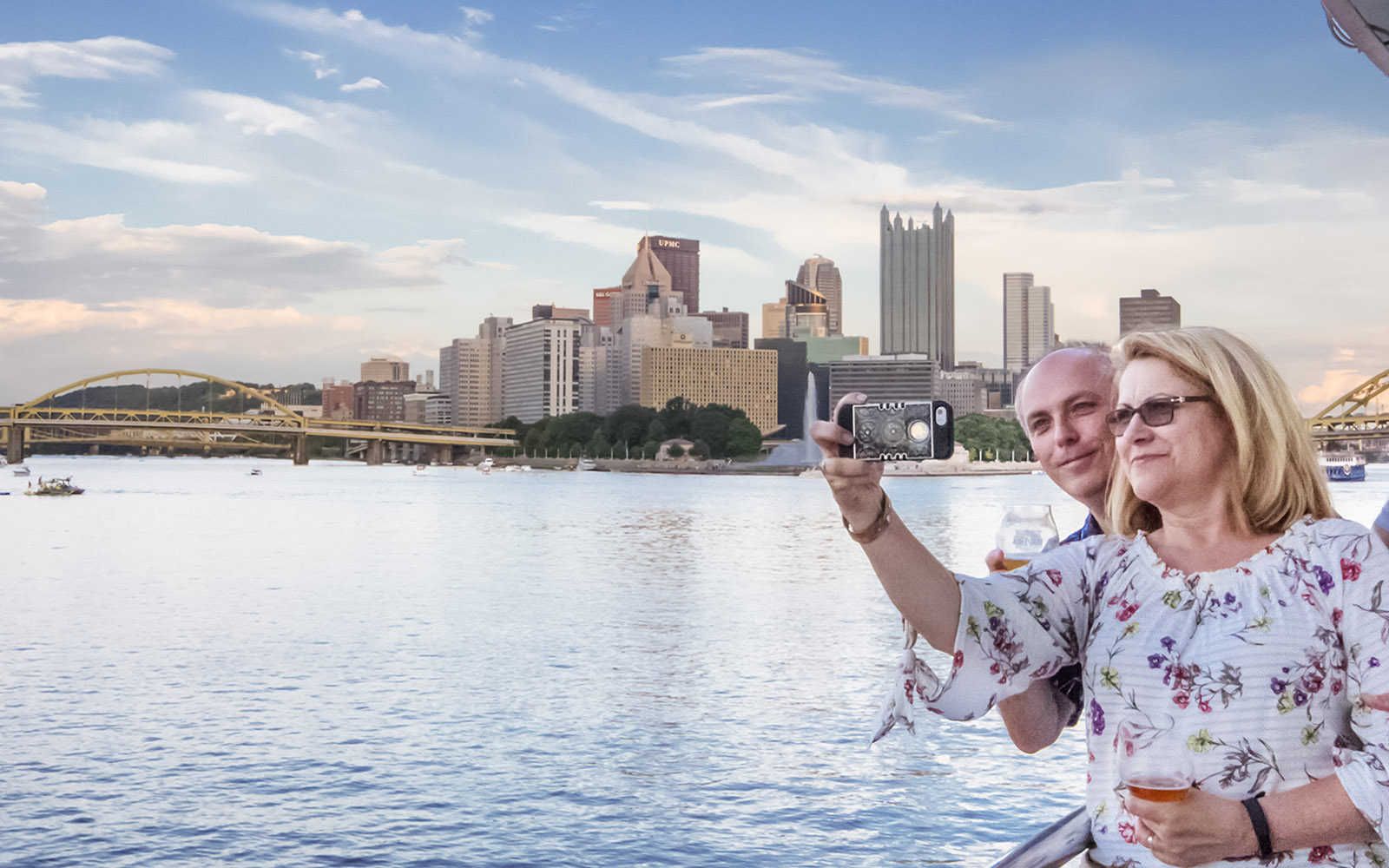 The Twilight Soiree is available on three Friday evenings in 2019: May 24, June 21, and July 5. Gate opens at 7:00 pm. The cruise is from 7:30 to 9:30 p.m.
Buy tickets
Explorer docks docks on Pittsburgh's North Shore at the Rivers of Steel Dock, near the headwaters of the Ohio River and adjacent to the Carnegie Science Center.
Get Directions
Get Directions
What to Know Before You Go
Rivers of Steel maintains a family atmosphere on the Explorer. Please be advised of these tips and guidelines to ensure your best possible experience.
Food & Beverages: Guests are welcome to bring their own snacks and non-alcoholic beverages. Water coolers are available on each deck. Smoking / vaping is prohibited at all times.
Accessibility: The Explorer riverboat and its home dock are ADA accessible, which includes an ADA restroom onboard, as well an elevator to navigate between the boat's decks. Handicapped parking is available nearby at the Carnegie Science Center.
Photography: Photography is encouraged!  However, for safety reasons videography and drones are prohibited.
Admission: Unless otherwise noted, all admissions are ticketed. By purchasing admission tickets, all visitors consent to be photographed.
Duration & Arrival:  Guests may board Explorer one-half hour before their program is scheduled to depart. The Twilight Soiree cruise is scheduled to be two hours. Guests should plan to arrive at least 15 minutes prior to the scheduled departure time, as cruises begin promptly. Should we encounter river traffic, the tour could be extended by as much as 15 minutes on the back end.
Weather Policy: Tours are rain or shine. Rivers of Steel will cancel a tour if inclement weather poses a threat to our guests or our vessel. In the event of unsafe river conditions, severe weather conditions, or mechanical failure or as required by U.S. Coast Guard, other regulatory or governmental agency, our captain reserves the right to stay at dock or if the vessel is underway to return to dock. In such instances, refunds or exchanges can be issued for tickets purchased in advance.
Related Events