While production may have stopped onsite in 1982, the era of Carrie as an artistic muse was just beginning.
get tickets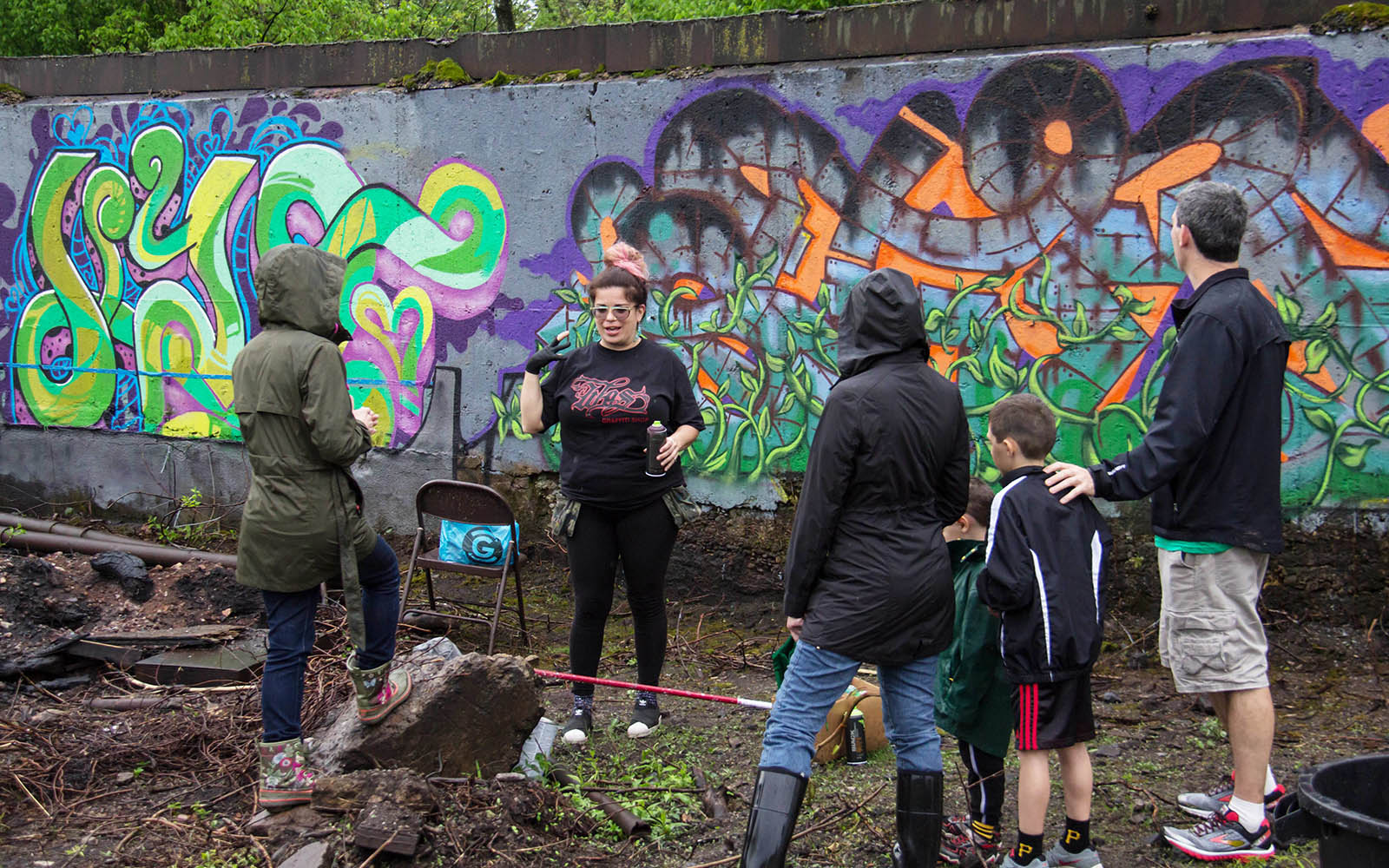 Today, Rivers of Steel invites you to go behind the scenes to experience the site from a post-industrial perspective. You'll discover how guerrilla artists, urban explorers—and later curators, installation artists, and even landscape designers—have made creative use of a revered space.
This specialty tour includes areas of the site that are not included in the Industrial Tour, including a walk through the Iron Garden.
Carrie Deer Sculpture by the Industrial Arts Co-op
This evening tour is offered on the first and third Thursdays from June through September at 6:30 p.m.
Kids (ages 4 -17)
Advance/Door
$14/$17
Students (18+ with college ID)
Advance/Door
$17/$20
Seniors (62 and above) 
Advance/Door
$17/$20
General Admission 
Advance/Door
$21/$25
*Tours are limited to 25 participants. We highly recommend purchasing tickets in advance as we cannot guarantee tickets will be available for walk-ups.
Buy tickets
The Carrie Blast Furnaces are located in Swissvale and Rankin, PA in the Monongahela River Valley. The entrance to the Carrie Furnaces is located at Carrie Furnace Boulevard, Rankin, PA 15104.
Get Directions
Get Directions
What to Know Before You Go
As a former industrial site, there are a few things to keep in mind to ensure an enjoyable visit.
What to wear: The majority of each tour is outside; please dress for the weather. Additionally, the ground is uneven—sensible shoes are a must. Sneakers or boots are recommended. Open-toed shoes and high heels are prohibited.
Restrooms & concessions: The rawness of the site is certainly part of its charm. However, that rawness also limits the creature comforts many of us are accustomed to, like running water. Portable bathrooms and wash stations are available. Food amenities are generally not available (with some exceptions, such as food trucks at festivals).
Photography: Photography is permitted. For safety reasons, videography and drones are prohibited.
Accessibility: Handicapped parking is available, but the grounds covered during tours are not wheelchair accessible.
Liability: By purchasing admission tickets, all visitors are required to sign a liability waiver and consent to be photographed (PDF).
Admission: Site access is limited to guided tours, workshops, and events. Unless otherwise noted, all admissions are ticketed.
Duration: Allow two hours for your tour.
Children: While kids of all ages are welcome, the tour content is recommended for children ages 8+.
Thank you for following these guidelines. We wish you to have the best visit possible and appreciate your patience as we continue to improve the visitor experience.
For more information, contact info@riversofsteel.com.
Learn more about the events
such as tours, workshops, and festivals happening at each unique attraction.