Guided Tours of the W.A. Young & Sons Foundry and Machine Shop
Step back in time to the early 1900s and discover the artistry of handcrafted manufacturing.
Buy tickets
Buy tickets
A visit to W.A. Young & Sons is a step back in time! Nestled in the historic district of Rices Landing, Greene County, the Machine Shop is an astonishing industrial treasure.
Built in 1900, the shop produced parts for steamboats, coal mines, railroads, and supported local small businesses. When it closed in 1965, the building was locked and all of its tools and equipment were left in place—perfectly preserving its line shaft driven, 25-machine network for future generations.
Visitors tour the blacksmith shop, pattern shop, hardware store, and foundry—and marvel as the machines are switched on during a live demonstration of this turn-of-the-last century technology!
Guided tours of the Machine Shop are available most Sundays, from May through November.
*Tours are limited to 10 participants. Tickets must be purchased in advance. Guests will be required to show their electronic or paper tickets for admission. No tickets will be sold at the door.
Buy tickets
Buy tickets
"Wonderful tour and blacksmithing demo! Excellent photography stop, highly recommend."—Bonnie Joy Massey, Google Review, 2021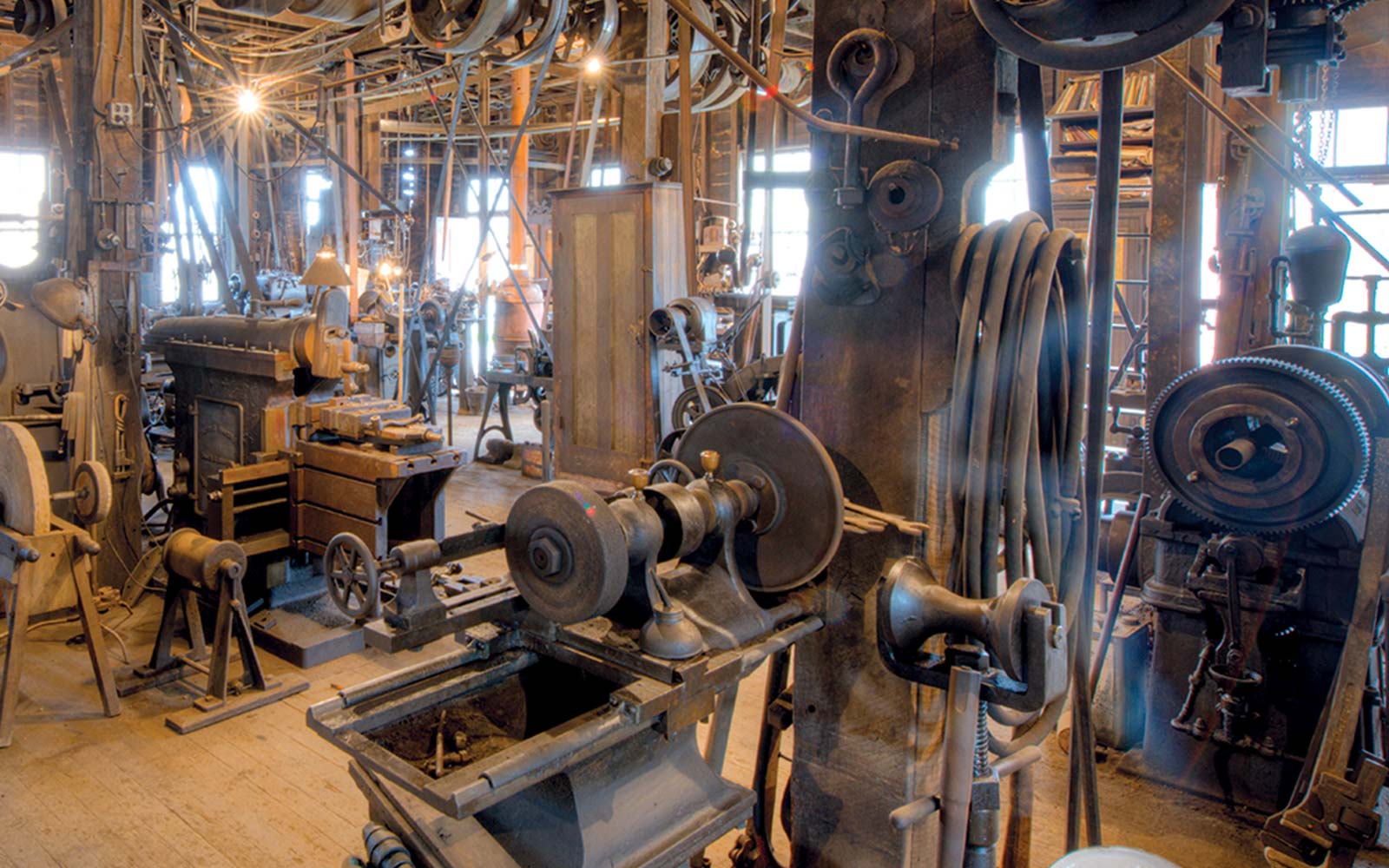 Located in Greene County, one hour south of Pittsburgh in the upper Monongahela River Valley at 114 Water Street, Rices Landing, PA 15357.
Get Directions
Get Directions
Please note that this location can be out of range. Your GPS or online mapping programs may not be available. Download directions offline or print them in advance.
What to Know Before You Go
As a former industrial site, there are a few things to keep in mind to ensure an enjoyable visit.
What to wear: Dress for the weather. The building is not temperature controlled. Additionally, the ground and flooring are uneven—sensible shoes are a must. Sneakers or boots are recommended. Open-toed shoes and high heels are prohibited.
Restrooms & concessions: The antiquity of the site is certainly part of its charm. However, that limits the creature comforts many of us are accustomed to, like running water. Restrooms are available at the park near the entrance to Water Street. Food amenities are generally not available.
Photography: Photography is permitted. For safety reasons, videography and drones are prohibited.
Accessibility: This National Historic Landmark is generally not fully accessible, but can meet some patrons' needs. Contact info@riversofsteel.com to inquire.

COVID-19 Policies:

Please be advised of our 

current COVID-19 policies. 
Liability: By purchasing admission tickets, all visitors are required to sign a liability waiver and consent to be photographed (PDF).
Admission: Site access is limited to guided tours, workshops, and events. Unless otherwise noted, all admissions are ticketed.
Duration: Please allow one hour for your tour.
Location & GPS: The Machine Shop is located at 114 Water Street, Rices Landing, PA 15357. The historic town of Rices Landing is located in a valley where cell service can be limited. You may not want to rely on your GPS.
Parking: Guests are welcome to park in the parking lot near the entrance of Water Street, on the left side before rounding the bend. From there the walk to the the Machine Shop is 400 feet and has a slight incline. Guest with limited mobility may be dropped off near the front of the building, but please be advised that turnaround space can be limited directly in front of the Shop.
Children: While kids of all ages are welcome, the tour content is recommended for children ages 8+.
Thank you for following these guidelines. We wish you to have the best visit possible and appreciate your patience as we continue to improve the visitor experience.
For more information, contact info@riversofsteel.com.
Learn more about the events
such as tours, workshops, and festivals happening at each unique attraction.