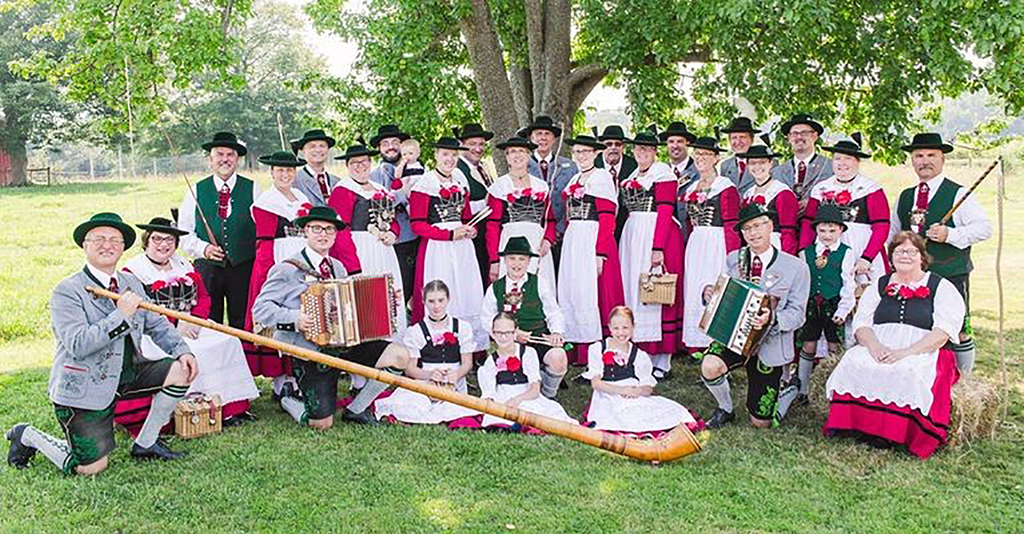 Group photo of the G.T.E.V. D'Lustigen Isartaler, Pittsburgh
By Brianna Horan, Manager of Tourism & Visitor Experience
Cultural Heritage Recipe Box: Bavarian
Béla Pater is the grandchild of central European immigrants from Germany, Austria, and Hungary and is the president of the G.T.E.V. D'Lustigen Isartaler, a Bavarian cultural education organization in Millvale. For the better part of 20 years, he and other members from around the tri-state area—and the world—have been keeping the cultural traditions alive by gathering in authentic Bavarian clothing to enjoy traditional song, dance, food, and community.
The full name of the organization is Gebirgs Trachten Erhaltungs Verein D'Lustigen Isartaler. According to Pater, this roughly translates to "the mountainous traditional clothing preservation organization-club of jolly people from the Isar River Valley" He added that they are named after a club in Bavaria's Isar River Valley, a place with geography similar to the Pittsburgh region's.
G.T.E.V. D'Lustigen Isartaler is a nonprofit cultural education organization that was formed in 1972 by a group of parishioners with southern German heritage from the former German Catholic St. Anthony's Church in Millvale, which is now called Holy Spirit Parish. Dance practices and some of the club's meetings and events continue to be hosted at Holy Spirit Church. Pater began working with G.T.E.V. D'Lustigen Isartaler in 1992 when he was Holy Spirit Parish's music director through the experiences of choir members who also belonged to this Bavarian club. "I quickly became interested in the heritage and fun of the group and enjoyed not only the Gemütlichkeit (camaraderie) of the membership, but learning how to do these time-honored traditional dances, some nearly 1,000 years old," he says.
Members of the club have a genuine love for Bavarian and Austrian alpine traditions, customs, folk dancing, singing and camaraderie, with at particular affinity for the Gebirgs Tracht (traditional clothing) that they wear to events and dance competitions. "Knowing our club is a part of a larger organization in North America that brings all of our organizations together yearly, and further every other year have the opportunity to go to Bavaria to be a part of dance competitions and other traditional events, really feels like an awesome privilege and honor to be in the midst of it all," Pater reflects. "We educate and perpetuate these wonderful traditions and love to share them." G.T.E.V. D'Lustigen Isartaler welcomes new members of all ages; in addition to adult programming they have a Kindergruppe for children. Most members are of German, Austria-Hungarian, or Swiss descent, whether "a new immigrant or their great-great grandparents came over to become American citizens."
Learn more about G.T.E.V. D'Lustigen Isartaler's programming and membership by visiting www.isartalerpittsburgh.org, or checking out their Facebook Page at https://www.facebook.com/IsartalerPgh. You can also call the club at 412-398-0586 to speak with Marianne Brei Loibl, the Korrespondenz Sekretärin.
From the kitchen of Béla Pater
Béla chose two traditional German Christmas recipes to contribute to the Cultural Heritage Recipe Box.  He's also shared a number of photos from G.T.E.V. D'Lustigen Isartaler's past gatherings, including Weihnachtsfeier, the club's annual Christmas celebration that takes place during the twelve days of Christmas, typically the weekend after New Year's Day.
"Both Christstollen are Pfeffernüße are quintessential German Christmas sweet treats! I like them equally, so I am including both recipes. As there are 16 federal states of Germany, there are at least that many variations of adaptations, traditions and recipes. I am sharing those of southern Germany, more specifically the great former Wittelsbach kingdom of Bavaria, particularly of the Alpine villages. My heritage is a blend of German, Austrian and Hungarian cultures and I feel quite fortunate to be a grandchild of these Central European immigrants to our beautiful Pittsburgh region. My memories of my grandparents and their traditions also piqued my further interest of my cultural heritage to be a study abroad student, studying in Germany, Austria, Hungary and Italy.   Each time I make these recipes, I think fondly of my Oma and my mom on my maternal side and my Hungarian Nagymama on my dad's side. There were many people of Germanic heritage living in the former Hungarian kingdom prior to the World Wars, and my Nagymama's cooking experience was the best of these Hungarian, Austrian and German peoples. Now my daughter enjoys these delicious treats as much as my extended family." –Béla Pater
Christstollen
Stollen is a fruit bread of nuts, spices, and dried or candied fruit, coated with powdered sugar or icing sugar. It is a traditional German bread eaten during the Christmas season, when it is called Weihnachtsstollen (after "Weihnachten", the German word for Christmas) or Christstollen (after Jesus Christ).
Ingredients
2 cups milk
3/4 cups sugar
2 tsp. salt
1/2 cup butter
2 packets yeast
7 1/2 cups flour
1 tsp. lemon rind
1/2 tsp. mace
1/4 tsp. cardamom
2 eggs
1 cup raisins
1/2 cup currants
1 cup candied fruit
1/2 cup candied cherries
1 cup almonds, ground
Soak raisins and currants in 1/2 cup rum
Instructions
Heat milk and butter to 105 degrees, combine 2 1/2 cups of the flour, sugar, salt and yeast, pour into warmed milk/butter mixture and mix. Add all remaining ingredients, mix until combined. Knead the dough for smooth consistency. Divide dough into two equal portions or three equal portions and place on floured cookie sheets and let rise for 1 hour or until double in size. Bake at 350 degrees for 25-30 minutes. Brush melted butter over top and sprinkle powdered sugar over top.
Pfeffernüße
Translating to "pepper nut cookie," and sometimes written as "pfeffernüsse" in English, these traditional German Christmas cookies are made with a blend of spices like ginger, cinnamon, and white pepper, then glazed or coated with powdered sugar.
Ingredients
For the cookies:
1/4 cup (70 g) dark molasses (not blackstrap)
1/4 cup (70 g) honey
6 tablespoons (75 g) white granulated sugar
1 teaspoon ground cinnamon
1/2 teaspoon ground cardamom
1/2 teaspoon ground ginger
1/2 teaspoon ground white pepper
1/4 teaspoon ground allspice
1/4 teaspoon ground cloves
1/4 teaspoon ground nutmeg
1/4 teaspoon salt
2 tablespoon whole milk, cold from the refrigerator
1 teaspoon baking soda
1 large egg, cold from the refrigerator
2 1/2 cup (350 g) all-purpose flour
For the glaze:
1 cup (115 g) powdered sugar, sifted
1 tablespoon lemon juice
1 tablespoon water
Special helpful items:
Silpat or other silicon baking mat
Pastry brush
Instructions
Preheat your oven to 375ºF and line a baking sheet with parchment paper or silicon baking mat.
Make the cookie dough: Warm the molasses, honey, and sugar in a medium-sized saucepan, stirring occasionally, until the sugar is dissolved. Remove the pan from heat and stir in the spices and salt. Let cool until just warm to the touch. Stir in the milk, baking soda, and egg. Add the flour and stir until most of the flour is absorbed. Using your hands, knead the dough until the remaining flour is incorporated.
Shape the cookies: Pinch off about a teaspoon of dough and roll a 1-inch ball. Place on the prepared baking sheet and repeat with the remaining dough, spacing the balls of dough 1-inch apart from each other.
Bake in the oven for 9 to 11 minutes, or until the bottom of the cookies are just starting to brown.
Stir together the powdered sugar, lemon juice, and water to make the glaze.
Options of Glaze or just powdered sugar: To Glaze the cookies: Once the cookies are done baking, pull the pan out of the oven and brush the hot cookies with the glaze, making sure to cover as much of the tops and sides as possible. Don't worry if some of the glaze drips onto the baking sheet.  Let the cookies cool on the baking sheet until the glaze is dry to the touch, then move to a cooling rack. The cookies improve (the spices mellow and the texture softens) after a day or two in a sealed airtight container.  Otherwise some folks like just to coat with lots of powdered sugar instead of a glaze.  Both are delicious!